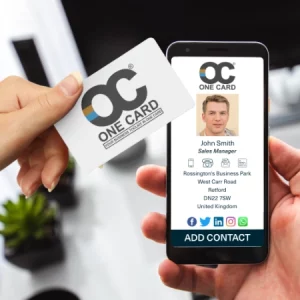 The Digital Business Card 
The smart way to exchange details
Reducing the need for printed materials, increasing leads, sales and improving productivity saving time and money whilst lowering your carbon footprint.
"We Innovate For Your Success"
The Digital Business Card Solution for businesses requiring multiple cards
Reduce the need for printed materials by using a simple and centrally manged system for sharing contact details and business documents with your clients. Increase the productivity of your sales team operating seamlessly on a global scale while reducing costs and carbon footprint.
"We encourage collaborative culture and high energy working practice"
Switch to the Digital Business card and offset your carbon footprint
The Choice of business cards by B Corps globally, One Card can assist in your transition to becoming paperless.
For every purchase One Card contributes to Worldwide Projects to remove carbon, restore nature and improve livelihoods.
"We do the right thing – sustainability is the future of our world"
How would you like to network with 1000+ businesses?
Experience many business benefits, discounts and even an extra income stream?
As a One Card client you are welcomed to the One Card community where we help businesses learn and grow together.
The Great British Business Show and The Internation Franchise Show have been media partners with One Card since 2021.
Away from the brilliant networking solution they offer to our exhibitors, the One Card team is an absolute treat to work with. A great business with heart and soul.
I cannot recommend them enough
Ash Saman
Director Of Global Relations, The Great British Business Show
For a sales company like Ashcroft, it is revolutionary for its sustainability, innovation, ease of use and adaptability.
Damien Walker
Managing Director
Ashcroft Instruments Limited
We were lucky enough to be involved with the innovative, One Card, at its development stages and continue to be impressed by each update. Our external sales team travel to customer sites around the UK to discuss the range of process equipment and services Moody Direct can provide.
Becky Pearce
Marketing Manager
Moody Direct Limited
One touch of a client's phone and they can add my contact details as well as go straight to my website, social media or download my free home audit.<br>What a fabulous concept!
Sharon McNulty
Joyful Spaces